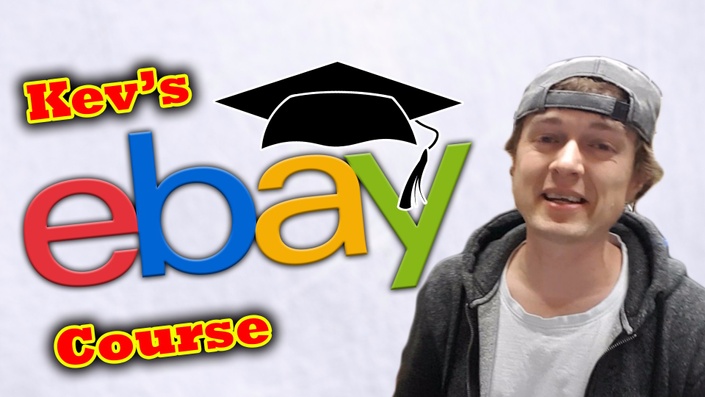 Kev's 11 Step eBay Powerseller Blueprint
11 Simple Steps to eBay Success
Are you sick of your 9-5 job? Do you want to work from home on your own terms? Do you want to earn more money so you can have the life you deserve? Or do you want to supplement your existing income so you have more money for hobbies, cars or holidays?
If you answered yes to any of the above then starting an ebay business could be for you. Some people will always be skeptical but this is a real business and 1000's of people are already making 6 and 7 figure incomes by selling on ebay. I've made over $1million in ebay sales and have taught 100's of people my secrets, many of which are making thousands of $ every month.
The course is laid out in 11 simple and easy to follow steps that anyone can learn, and 11 super simple things that you have to get right in your ebay sales pages in order to get your items to sell well on ebay. These 11 things took me 2 years and over $50,000 of testing and experimenting with different products and selling strategies to get right. In this program I share all of this with you and you can learn it all in a few hours, short cutting the years of painfully having to figure all of this out for yourself and saving yourself thousands of $ in the process.
If you're new to making money online then ebay has by far the highest success rate from what I have seen. Sure some people successfully do Amazon FBA, Shopify, affiliate marketing amongst other things but failure rate is extremely high as they are not beginner friendly, have a very steep learning curve and can cost much more to get started with.

In this course you will learn everything you need to know about starting & growing your own successful eBay Business. The course is made with the complete novice to pro ebay sellers in mind. With this business you can earn as little or as much as you like, so whether you are looking to supplement your regular income or quit your 9-5 and make over $100,000/year then this course is for you!
The basic business model is we buy cheap and sell high. For example we can buy products for around $1 and sell them for $5 to $10 and we sell multiple items like this every day. You won't make $100k over night but it can come a lot sooner than you think if you follow the 11 proven steps in the course.
In this course we will go over:
Product Research
Product Criteria
The exact strategies that I have used to make over $1 million in sales
How to find products from local & international suppliers
How to find products with 10x profit margins
Creating eBay Listings that sell better than the competition
11 things you MUST do so your items sell
How to build feedback fast
How to rank your product on page 1
Anyone can make sales if they are the cheapest, but being the cheapest will usually end in selling at a loss and eventually putting yourself out of business. I learnt the hard way! In this course you will learn how you can sell at a higher price than your competitors and actually make a decent profit.
No experience needed
Simple to follow step by step process in video format with side notes for quick and easy future reference
Learn at your own pace there is no time limit
No special skills required, easy for the average person to follow
Can be done in any country that has ebay
This is a real sustainable business, not a get rich quick scheme/scam
Can be done on any scale from a couple of hours a week to make some extra cash to making a full time income and more!
I show you all the mistakes I first made and how it can save you 1000's £$
How to sell your items at a higher price than your competition for maximum profit
You can start with a small investment of $5 but $500-$1000 would give you a good head start
Can be done from home as a one man band
Watch over my shoulder as I go from finding products, making listings that sell to shipping products
Why you should not dropship
You can take this course at your own pace there is no time limit
Unlimited access with free updates to keep the course up to date

100% 30 day Money Back Guarantee - If you don't like it you'll get a full refund, NO QUESTIONS ASKED! Never has anyone been denied a refund within 30 days.
All you need to do is send 1 short email requesting a refund and you will be refunded within 24 hours. (You will be given the email address on signup). I understand that working from home is not for everyone, so this enables you to try the course risk free to see if you like it!
No refunds can be given after 30 days. NO exceptions!
See what some of my students have to say, these are real testimonials, as posted by my students on youtube and in the facebook group. These can be seen by all on the course:

Course Curriculum
Free Bonuses
Available in days
days after you enroll
Special offer (75 Traits and Habits)
Available in days
days after you enroll
Introduction
Available in days
days after you enroll
Frequently Asked Questions
When does the course start and finish?
The course starts now and never ends! It is a completely self-paced online course - you decide when you start and when you finish.
How long do I have access to the course?
How does lifetime access sound? After enrolling, you have unlimited access to this course for as long as you like - across any and all devices you own.
What if I am unhappy with the course?
I am so confident that you will love this program that I am offering a 30 day no questions asked money back guarantee. Even if you want your money back for beer, no problem! All you need to do is email me at the address in the 1st section of the course and you will be refunded immediately. Just say I want a refund and that's it! My only clause is that you ask BEFORE 30 days. After 30 days the system will not allow me to issue a refund.
Is this a get rich quick scheme?
No! Anyone promising that you will get rich quick with no work is selling a lie. You can expect to make some money in your first or second week provided you take action and do what is laid out in this step by step course.
How much can I make?
The sky's the limit. Some of my students are happy to make an extra $1000 a month with minimal work to supplement their income, others make $10k+ every month. Some eBay sellers make multiple millions every year so its up to you how far you want to take this business, you can do it on any scale so you can start small and scale up over time.
How much time do I need to give this?
This varies depending on your goal and how efficiently you work. On average, 1 to 3 hours a day can make this a $100,000 a year business within 2 years. I have many students making thousands in their first few months.
How much experience do I need?
None! If you can turn on a computer and write an email then you can learn how to be a successful ebay seller provided you follow the 11 simple proven steps.
How much money do I need to start?
You could start with as little as $1 but realistically if you are going to do this seriously $200 to $1000 will be a good start. The more you can invest the quicker your business will grow.
What if I need extra help?
There is a special closed facebook group where you can ask for help at any time. You will never be left alone.
Can I trust your refund guarantee?
YES! Payments are backed by major companies like VISA, MasterCard, and PayPal. There's never been a person in history who hasn't received their refund within the 30 days. The only person who can lose out on this is me. I have a trusted social media following. I only want people who are serious about making this work on my course. If this is not for you I want to refund you.
Where will this work?
Most of my students are from USA. I'm from UK and have students from all over the world. This will work in any country that has ebay.
How much space do I need?
It depends on what you sell. If you are tight for space and deal with smaller items then 3 or 4 boxes or drawers under your bed will be enough to start with. If you want to make over $100,000 a year you will probably need a spare room or garage. For those that go into the millions you will probably need a warehouse so it really depends on what you sell and what quantity.
How old do I need to be?
You need to be 18 to do ebay. If you are younger speak to a parent or guardian.
Is eBay really the best way to to make money online?
I would say for a beginner yes, without a doubt! For the past 10 years I have tried many different ways of making money online and ebay has by far given me the best results in the quickest time frame. I see so many people fail at Amazon FBA, Affiliate marketing, Shopify, Youtubing, Blogging and many other ways. eBay has by far the best success rate for beginners and you can start with very little money so this business is very low risk.
Do I have to quit my job?
No! you can easily do this alongside your regular job and once you make enough you can quit your job then, or keep your job and do ebay as a 2nd income it is up to you. This is so flexible you can choose how much and when to work.
Can you guarantee that this course will work for me?
Nope! Some people are lazy, procrastinate or don't follow what I teach, but what I can promise is that you will get all the same information and training that has made me and many of my student thousands every month.
Is it easy to get a refund?
Yes! You simply need to send me 1 email along the lines of 'this course isn't for me, can I have a refund?' and I will refund you within 24 hours, NO QUESTIONS ASKED! You will get 1 reply email confirming that you have been refunded. You will get my email address on signup and it is also in the 1st part of the course. My ONLY condition is that you ask for a refund within 30 days from enrolment date. I can not refund after 30 days, NO EXCEPTIONS!
What about the extortionate ebay fees?
Compared to building your own website and running paid ads, ebay fees are very reasonable. Also all sellers have to pay the fees so you are at no disadvantage.
Wouldn't it be better to sell on Amazon?
Amazon fees are much higher and competition is much greater. Also to get your listings to the pop of search results you need to get amazon to fulfill all your orders which is expensive and complicated. Also on amazon every seller selling the same product shares the same sales page. The only way for you to get the buy now button is to be the cheapest and be a prime seller. This will lead to a battle with all the other sellers to be the cheapest, and no one makes any money. One way round this is to have your own unique products but this will cost thousands of $£ and there is no guarantee that your product will sell. Amazon can be good for experiences sellers with some money behind them, realistically $10,000+ but it is a big gamble as you could lose it all. On ebay you can risk way less, even as low as $1 per item and ebay is a lot easier to learn so you risk way less money and have a much higher chance of success.
Wouldn't it be better to sell on your own website or shopify?
To make any sales you need to have trust, and people need to know that you exist. You could run paid ads to your website which will be way more than eBay fees but you still have not built up any trust with customers. No trust, no sales. It is very difficult and expensive to get noticed and for people to trust your website. eBay already has millions of buyers that already have trust in the platform. The way to run your own successful website is to be a reputable brand that people already know and trust, but this takes many years to build up.
Is it better to be a Youtuber?
Youtube is probably more fun, but it takes many years to build a following and make any worthwhile money. On top of that only a very small percentage of serious youtubers ever get anywhere. On eBay you could be making money in your first few days and it is much easier and quicker to scale up. With ebay you can start with maybe 1 hour a day. With youtube you need to treat it like a full time job to stand any chance of success which makes it impossible if you already have a full time job.
Is eBay really the best way to make money online?
In my opinion YES! I don't know of a better way for a beginner to make money online and many big companies and brands also sell on ebay. If you're still on the fence, there's no need to be! With my 30 day no questions asked money back guarantee you can use the course as much as you like and if you feel for whatever reason that it's not for you then you get your money back, all of it! So unless you're happy with your 9-5 and don't want to make more money, why not let me help you, as I have 100's of other people?
Disclaimer:
You can realistically expect to make some money in your 1st or 2nd week and the the testimonials above are actual results from some of my students but ultimately how much you make depends on you, what country you're from, current economic climate amongst other things. There is no guarantee how much you will make. You are 100% responsible for your actions. You may make more or less than me and my students, you may even lose money if you don't follow this guide. I, Kevin Talbot or my company are not responsible for any money you make or loose. It is up to you to to abide by the laws of your country. Earnings will depend on work ethic, your level of motivation and learning ability amongst other things.
Any business has risks and can fail, selling on ebay is no exception. This program is designed to minimise those risks and to give you the best chance of success.
You agree to terms by enrolling in this course.